The Governor ordered individuals in North Carolina to stay at home and non-essential business operations to cease beginning at 5 p.m. Monday, March 30, 2020. The order, Executive Order No. 121, remains in effect for thirty days from that date. Here are a few things to know about the order and its enforcement.
There are exceptions to the order to stay home.
While individuals in North Carolina are ordered to stay at home, their place of residence, or their current place of abode, they are allowed to leave their residences for essential activities, essential governmental operations, and to participate in or access COVID-19 essential businesses and operations.
Essential activities include the following:
Activities or tasks essential to a person's health and safety, the health and safety of family, household members, or persons who are homebound, or the health and safety of pets.
Obtaining necessary services or supplies for oneself, family, household members, or persons who are homebound, or to deliver those services or supplies to others.
Outdoor activity, provided individuals comply with social distancing requirements and mass gathering limitations. Mass gatherings were redefined in the order as any event or convening that brings together more than ten (was 100, then became 50) persons in a single room or single space at the same time.
Certain types of work.
Caring for or assisting a family member, pet, or friend in another household.
Traveling to and from a place of worship.
Receiving goods and services provided by an essential business or operation.
Returning to or traveling between one's place or places of residence for purposes including child custody or visitation arrangements.
Volunteering with organizations that provide charitable and social services.
Essential businesses may remain open.
While non-essential business and operations were ordered to cease all but "minimum basic operations," some business were allowed to remain open. Those include businesses that conduct operations while maintaining social distancing requirements along with other enumerated types of businesses, including healthcare and public health operations, human services operations, grocery stores, gas stations, media, banks, mail and postal services, educational institutions (here I am), restaurants for consumption off-premises, transportation services, and professional services, including legal services. For a full list, read the order here. All essential businesses and operations are ordered, to the extent practicable, to maintain social distancing requirements.
A person may be criminally prosecuted for violating the order.
Violation of the provisions of Executive Order No. 121 are enforceable by state and local law enforcement officers and are punishable as Class 2 misdemeanors. There is no requirement that a person charged with such an offense be arrested; a law enforcement officer may instead issue a citation charging this offense. See G.S. 15A-302. The maximum punishment for a Class 2 misdemeanor committed by a defendant with the highest prior conviction level (five or more prior convictions) is 60 days imprisonment. In contrast, a person with no prior convictions who is convicted of a Class 2 misdemeanor may not receive an active term of imprisonment, but may be placed on probation pursuant to a suspended sentence of up to 30 days imprisonment. In practice, most sentences for Class 2 misdemeanor convictions are sentences to probation and/or a fine.
The order does not authorize suspicionless stops.
To lawfully stop an individual to investigate a crime, a law enforcement officer must have reasonable and articulable suspicion of criminal activity. To comport with the Fourth Amendment's reasonableness requirement, a brief investigative stop "must be based on specific and articulable facts, as well as the rational inferences from those facts, as viewed through the eyes of a reasonable, cautious officer, guided by his experience and training." State v. Carver, ___ N.C. App. ___, 828 S.E.2d 195, 198 (2019) (internal quotations omitted), aff'd per curiam, ___ N.C. __, 837 S.E.2d 872 (Feb. 28, 2020). There is no blanket exception to the Fourth Amendment's reasonableness requirement or the reasonable suspicion standard for criminal violations of executive orders. Cf. State v. Culver, 733 N.E.2d 334, 336–37 (County Ct. Ohio 2000) (finding that officer had an articulable and reasonable suspicion that at least one of the occupants of the motor vehicle he stopped was violating the curfew imposed by village ordinance); Akron v. Fair, 646 N.E.2d 1205, 1207 (Akron Mun. Ct. Ohio 1994) (finding that officer had an articulable and reasonable suspicion that defendant and the other occupants of the car were violating the municipal curfew law). Thus, law enforcement officers may not carry out suspicionless stops to detect violations of Executive Order No. 121. The same standard applies to law enforcement stops for stay at home orders issued by counties or municipalities pursuant to G.S. 166A-19.31. Because violations of those orders likewise is a crime, see G.S. 166A-19.31(h), a stop to investigate such a violation must be supported by reasonable suspicion.
The State Highway Patrol made this point on its Facebook page yesterday, writing that "The North Carolina State Highway Patrol will not be conducting traffic stops during the stay at home order for the sole purpose of determining whether a person is engaged in essential travel to work or other acceptable activities allowed by the order."
This explanation appeared above a COVID-19 banner stating that the State Highway Patrol would only conduct traffic stops if reasonable and articulable suspicion exist.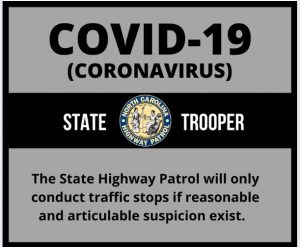 If you skipped the explanation and went straight to the graphic, you might have thought the Highway Patrol was announcing a special COVID-19 standard.  Of course, it was not. It was announcing that not all rules are off in these strange, new times. The reasonable suspicion standard continues to apply.