Correctional statistics have been in the news as we consider the impact of the coronavirus on our jails, prisons, and supervised populations. This week the Secretary of Public Safety announced a decision to extend the limits of confinement for certain categories of inmates under G.S. 148-4 (the general plan is outlined here). That (in conjunction with the existing moratorium on new entries) caused the prison population to fall throughout the week. Advocates continue to push for broader releases.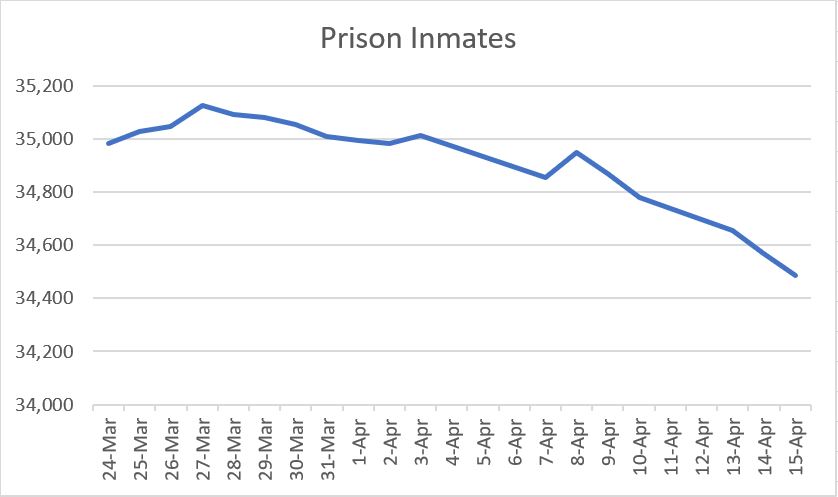 But today's post isn't about what's happening now to get certain inmates out of prison. Instead, it's a review of the last year's worth of data on how those inmates got there in the first place. The North Carolina Sentencing and Policy Advisory Commission recently published its annual Structured Sentencing Statistical Report for Felonies and Misdemeanors. Here are the highlights.
This year's report, available here, covers sentencing episodes from July 1, 2018 to June 30, 2019. Quick facts for felonies are available here, and for misdemeanors here. As always, remember that the report is based on sentencing episodes, defined as the most serious conviction for a defendant on a given day of court. There were 28,526 felony sentencing episodes (down from 29,623 last year) and 88,048 misdemeanor episodes (down from 92,855 last year). Misdemeanor convictions have declined to about half of what they were a decade ago.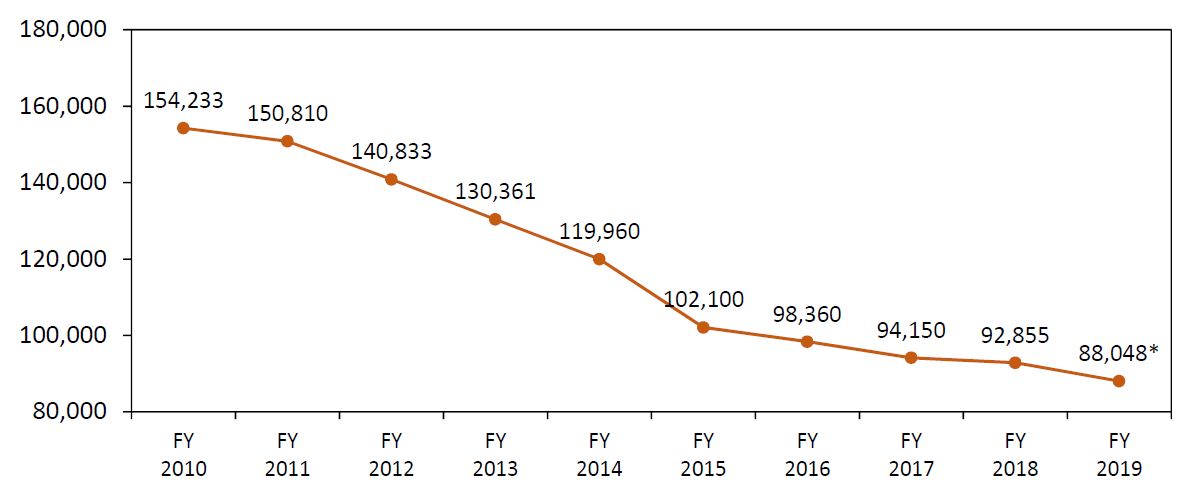 Most common grid cell. As usual, Class H/Level II was the most frequently used of the 60 cells on the felony grid. It accounted for 3,264 sentences, which is 11.6 percent. Class A/Level V was used once.
The quietest month for felony sentencing was December. August was the busiest. I'll go out on a limb and say next year's report won't show the same pattern.
After a decade of increases, habitual felon convictions dropped from 1,059 to 935. Breaking or entering and possession of a firearm by a felon tied for the most commonly habitualized offense (they account for 9 percent of all habitual felon sentences each).
Meanwhile, drug trafficking sentences increased from 481 last year to 498 in this year's report. Both numbers are up from the 452 convictions listed in the 2018 report, which was the last year of data before the law was amended to include opioids. About 15 percent of trafficking convictions were sentenced to probation, indicating that the court found substantial assistance (or made a mistake).
Class H and I felonies in district court. As usual, many Class H and I felonies were handled by guilty plea in district court—5,013 to be exact. Collectively, you are consistent; that's only 11 fewer Class H and I felonies than were entered in district court in 2018.
Average probation length. The average length of supervised probation was 25 months for felonies and 15 months for misdemeanors. Both numbers are one month less than the average from last year.
ASR. Advanced supervised release (ASR) was used 123 times, up from 105 sentences last year. As in previous years, the largest number of those ASR sentences were for Class D felonies, where the ASR date can cut literally years off the defendant's sentence.
Death and life. Fiscal year 2019 saw 2 death sentences, 69 sentences to life without parole, and 4 defendants who were under 18 at the time of their crime sentenced to life with the possibility of parole after 25 years. Four violent habitual felons were sentenced to life without parole.
Firearm enhancement. For the fourth year in a row, the firearm enhancement was not used a single time.
The report gets better every year, with new material (like a new section on ten-year trends) that allows for an even closer examination of the data. As always, I thank the Commission staff for its thoughtful and careful work.