The News & Observer ran an article last weekend about some of the restrictions on where sex offenders are allowed to live or go. One of the laws mentioned was G.S. 14-208.18(a)(2), which makes it a Class H felony for certain registered sex offenders to "knowingly be . . . [w]ithin 300 feet of any location intended primarily for the use, care, or supervision of minors when the place is located on premises that not intended primarily for the use, care, or supervision of minors, including, but not limited to, [schools, children's museums, child care centers, nurseries, and playgrounds] that are located in malls, shopping centers, or other property open to the general public." It was clear from the article that there's some confusion about the law, so it seemed a good topic for today's post.
Passed in 2008 (S.L. 2008-117), the 300-foot rule prohibits covered offenders from going near certain locations within places. It effectively tells the registrant, "You can go to places like the mall, you just can't go within 300 feet of the playground within the mall." That sounds easy enough, but there are some complications. First, which locations qualify as locations "primarily for the use, care, or supervision of minors" under this law? It seems like a clearly demarcated play area within a larger, non-kid-specific place would be covered. That would appear to render just about any fast-food restaurant with a play area entirely off limits—the play area is primarily for minors and the restaurant as a whole is not. Even the largest of restaurants (except maybe that giant McDonald's that spans the Will Rogers Turnpike in Oklahoma) would almost certainly be swallowed up by the football field–sized radius drawn around any play area on site.  Would a single coin-operated ride also qualify as a location for the use of children? In a multi-story mall can a covered registrant knowingly be in the areas above or below the play area? What about a shallow "kiddie area" in a public pool? Is that a location with a broader place (the pool as a whole) such that covered offenders cannot come within 300 feet of it? A play apparatus for children located within a broader park used by adults and children alike? A juvenile area within a bookstore or library? These are all actual questions I've been asked.
A related question, discussed in the N&O article, is whether the 300-foot radius around the location within a place extends beyond the boundaries of the place itself. In the McDonald's example, for instance, does the presence of a "Play Place" on site just mean the offender cannot go on the premises of the McDonald's itself, or does the 300-foot radius also sweep across adjoining parcels, rendering them (or portions of them) off limits too? To illustrate, does the restriction only apply to the greenish area in the figure below, or does it also exclude offenders from the yellow area outside of the mall premises?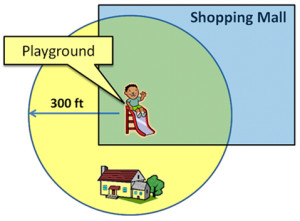 The literal language of the statute suggests that the yellow area is included, but that works a somewhat strange result in that locations within places would be surrounded by a 300-foot buffer while places devoted entirely to use by children (from which covered registrants are excluded under G.S. 14-208.18(a)(1)) would not. (There is no 300-foot boundary drawn around, say, a stand-alone children's museum or school. Rather, the offender just cannot go on the museum or school property itself under G.S. 14-208.18(a)(1) or (a)(3).)
To further complicate things, what if (as depicted in the figure) a covered registrant's home falls within the portion of the 300-foot radius that lies outside the mall? Does the 300-foot restriction then operate like a residency restriction? North Carolina has explicit residency restrictions under G.S. 14-208.16, which prohibits registrants from residing with 1,000 feet of schools and child care centers, as those places are defined by law. Again, it would be strange if the 300-foot rule operated as a more restrictive residency restriction than the residency restriction itself. It also bears mentioning that the 300-foot rule does not include the grandfather clauses built into G.S. 14-208.16 that exclude offenders who established a residence before residency restrictions came into effect on December 1, 2006 (see S.L. 2006-247, sec. 11) or who lived in a place before a school or daycare opened up nearby. Without those exemptions, an offender forced to move out of his or her property might have a valid claim under the Takings Clause. See, e.g., Mann v. Georgia Department of Correction, 282 Ga. 754 (2007) (holding Georgia's residency restriction law constituted an impermissible taking as applied to a sex offender who was forced to move after a child care center opened near his home).
The 300-foot rule (and other provisions within G.S. 14-208.18) raise other constitutional issues, particularly to the extent that they might infringe on a covered registrant's ability to practice his or her religion. As mentioned in the N&O article, that aspect of the law has been litigated at the trial court level (a superior court judge ruled in a Chatham County criminal case that portions of the law are unconstitutionally vague and overbroad), but not in our appellate courts. I'll save any conjecture about those constitutional issues for a future post and instead conclude this one by focusing on some things we know about G.S. 14-208.18.
First, as I mentioned before, the law came into effect on December 1, 2008, and applies to offenses committed on or after that date. It's clear, I think, that "offenses" refers to violations of G.S. 14-208.18 itself, not to the underlying sex crime that got the offender on the registry.
Second, the law does not apply to all registered sex offenders. Rather, it applies only to those who committed an offense in Article 7A of Chapter 14 (rape, sexual offense, statutory rape or sexual offense, sexual battery, and intercourse with certain victims—and there is no "substantial similarity" provision that would include analogous out-of-state crimes), or whose offense involved a victim who was under the age of 16 at the time of the offense. G.S. 14-208.18(c). (By contrast, the residency restrictions in G.S. 14-208.16 do apply to all registrants, except those who might fall within one of the grandfather clauses mentioned above.) It's not clear whether this law, like the satellite-based monitoring (SBM) law, requires that the victim's age be apparent based on the elements of the crime of conviction alone for the offense to be covered. See State v. Davison, discussed here. Unlike the SBM law there's no mention of "conviction offense" in G.S. 14-208.18(c), so it's probably permissible to look at the facts of the case to determine the victim's age. That's the position taken in a publication from the Attorney General's office (available here, page 24).
Third, subsections (d) through (g) of the statute set out exceptions to the law that allow: (1) offenders who are parents or guardians of a minor to obtain emergency medical care for that minor; (2) offenders who are parents or guardians, under certain circumstances, to visit schools for conferences; (3) offenders to vote; (4) school-age offenders to attend public school if permitted by the board of education; and (5) juvenile offenders to obtain medical care.
I realize this post offers more questions than answers. The best I can say for now is that I'll keep you posted on any clarifications that emerge from the General Assembly or the appellate courts. I welcome your comments on whether and how this law has been applied where you are.