With the exception of the buzz over the arrival of year Y2k, I have never in my lifetime seen people attach so much significance to the changing of the calendar year or express so much hope for what improvements that date change might usher in. The year 2021 has indeed arrived amidst the (socially distanced and masked) fanfare. And while none of us can know all of the ways in which our lives and work may change in the coming months, we do know that we will have new court system leaders helping us navigate these troubled waters.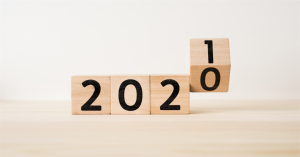 New Chief Justice. When I last wrote about the election for Chief Justice of the North Carolina Supreme Court, then-Associate Justice Paul Newby had a narrow lead, a recount was underway, and the race was too close to call. Several days later, Newby emerged as the winner by a razor-thin margin, garnering 401 more votes than his challenger, incumbent Chief Justice Cheri Beasley. Chief Justice Newby, the justice with the longest tenure on the current court, was sworn in to his new role shortly after midnight on January 1. A virtual ceremonial investiture for Chief Justice Newby and new North Carolina Supreme Court Associate Justices Phil Berger, Jr. and Tamara Patterson Barringer will take place at 10 a.m. tomorrow, January 6, 2021. The public may watch the ceremony on the NC Supreme Court's YouTube page.
New Chief Judge of the North Carolina Court of Appeals. Former Chief Judge Linda McGee—the longest serving court of appeals judge in state history–retired on December 31, 2020. Court of Appeals Judge Donna Stroud was appointed by outgoing Chief Justice Cheri Beasley to serve as Chief Judge and was sworn in by Chief Justice Newby on January 1. At the time of her appointment, Chief Judge Stroud was the most senior judge on the Court of Appeals, having been elected to the Court in 2006.
New Chair of the North Carolina Judicial Standards Commission. Court of Appeals Judge Wanda Bryant, who chaired the state's Judicial Standards Commission, retired on December 31, 2020. Former Chief Justice Cheri Beasley appointed Court of Appeals Judge Chris Dillon to serve as the commission's new chair.
New Chief District Court Judges. Former Chief Justice Cheri Beasley appointed three new chief district court judges in December: Judge Jimmy Love (Judicial District 11); Judge Toni King (Judicial District 12); and Judge Roy Wijewickrama (Judicial District 30).
Each of these office holders will face unprecedented challenges as courts balance the constitutional requirement that courts be open with the need to protect staff, attorneys, litigants, and the public during a pandemic. Each brings experience and a commitment to justice to the task at hand. As Chief Justice Newby told court officials in a new year's greeting on Monday:
Together, we have overcome many obstacles and we have survived many hardships. Our strength is found in our cooperation, mutual respect, and commitment to the fundamental principles on which our state was founded. I sincerely believe that when we are united, there is nothing we cannot do.
May the new year bring renewed hope, optimism and unity as our court leaders and those who support them strive to ensure that justice is administered without favor, denial, or delay.