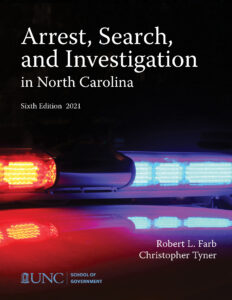 The indispensable search and seizure legal reference is back and better than ever! That's right, the sixth edition of Arrest, Search, and Investigation in North Carolina is now available for purchase here on the School of Government's website. Read on for more information about the content, changes, and pricing of the new edition.
Content. Most readers are likely familiar with the book, but here's how the website summarizes its subject matter:
This book covers the legal rules that govern an officer's authority to enforce laws and to investigate criminal offenses. It also covers the basic rules of evidence in criminal cases. Supplementary material is placed in footnotes at the bottom of the text, and relevant case summary sections are located at the end of each chapter . . . . Footnotes to the text and case summary sections include appellate cases and statutory references to assist in researching particular issues.
Changes. The book's publication date is June 15, 2022. It has been updated with appellate cases through June 2021 and statutory law through July 2021. Long authored exclusively by retired School of Government faculty member Bob Farb, it also has a new co-author, School of Government Legal Research Associate Christopher Tyner. It is a hefty 876 pages and features a striking new cover.
Editions and pricing. The book costs $135. An electronic version will be available at a later time, and likely will cost $99.
Note for Judicial Branch employees. North Carolina Judicial Branch employees may procure copies through the AOC's online store or contact the Purchasing Services Division (purchasing@nccourts.org) with questions. Please note that the AOC requests prior approval from division managers before ordering through its online store.
You can even buy it on Amazon. If you want to contribute a share of the proceeds to Jeff Bezos and his landlocked super yacht maintenance fund, you can even buy the book on Amazon. The product page is here.