2019 won't be the only new number you'll need to adjust to come January 1. On that date, most of North Carolina's prosecutorial districts also will have new numbers. Several of them will also have newly elected district attorneys.
New district numbers. Retracing the changes in district numbers requires a bit of back-tracking.  The first significant recent change was enacted by Section 18B.9.(e) of S.L 2017-57, which renumbered prosecutorial districts by whole numbers, removing the designations of A,B,C, and D for prosecutorial districts other than District 9A. Those changes, which were to be effective January 1, 2019, were amended by several subsequent session laws, Section 5.6.(a) of S.L. 2017-197, Section 18B.6 of S.L. 2018-5, Section 24.(a), (b) of S.L. 2018-114, and Section 3.(a). of S.L. 2018-121. Along the way, several prosecutorial divisions were reconstituted, and District 9A was eliminated altogether.
Because judicial district bars are nearly coterminous with prosecutorial districts, the State Bar prepared this helpful chart noting the changes in district numbers. The one exception to the coterminous rule applies in High Point, which has its own district bar, designated in the chart as District 24H. Guilford County, the county in which most of High Point is situated, is Prosecutorial District 24.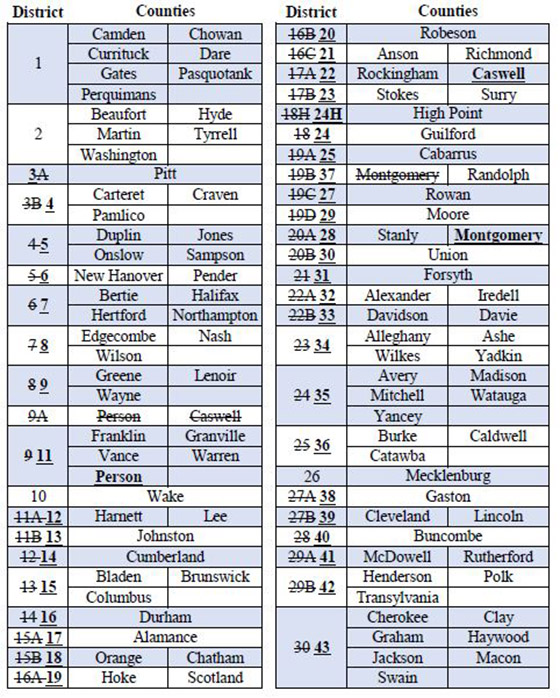 More changes to come. Two of the changes enacted by S.L. 2018-121 are not yet effective.
Prosecutorial District 19 (comprised of Scotland and Hoke Counties) will be eliminated December 31, 2020, which marks the end of the current district attorney's term. On January 1, 2021, Scotland County will become part of District 21 (joining Anson and Richmond Counties) and Hoke County will be added to District 29 (joining Moore County).
The office and term of the district attorney for Prosecutorial District 36 (comprised of Burke, Caldwell, and Catawba Counties) will be eliminated December 31, 2022, the end of the newly elected district attorney's term. Effective January 1, 2023, District 36 will be comprised of Burke and Caldwell Counties. Catawba County will constitute its own district – District 44.
This could get confusing. Several superior and district court districts continue to be designated by numbers that contain alphabetical subcategories. As a result, the numbers for 2019 prosecutorial districts differ significantly from those of judicial districts. Superior Court and District Court Districts 3B, for example, consist of Carteret, Craven, and Pamlico Counties. The prosecutorial district containing those same counties is District 4. I plan to keep multiple district maps (available here) on my desk.
New District Attorneys. There are some new names in the mix as well. The following district attorneys were newly elected to terms of office beginning in January 1, 2019, though two of them (Jason Ramey and Spencer Merriweather) already were serving in the role of district attorney pursuant to gubernatorial appointment.
District 3 (Pitt County): Faris Dixon
District 16 (Durham County): Satana Deberry
District 17 (Alamance County): Sean Boone
District 20 (Robeson County): Matt Scott
District 22 (Rockingham and Caswell Counties): Jason Ramey
District 24 (Guilford County): Avery Crump
District 26 (Mecklenburg County): Spencer Merriweather
District 36 (Burke, Caldwell and Catawba Counties): Scott Reilly
Now get to work learning all those new numbers–or at least the ones in which you reside or practice!