The General Assembly clearly was preparing for the future in June 2017 when it enacted regulations governing the operation of fully autonomous vehicles. Just two-and-a-half years later, that future has arrived on North Carolina State University's Centennial Campus. There, students, staff and visitors to campus can take a ride with CASSI, a driverless vehicle.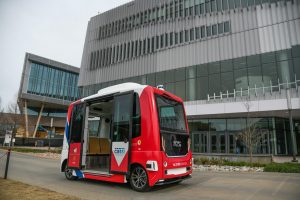 What is CASSI? Connected Autonomous Shuttle Supporting Innovation (CASSI) is, as the name suggests, a driverless shuttle. The model is an EZ10, manufactured by EasyMile, a company headquartered in Toulouse, France. The EZ10 has been deployed in other U.S. cities, including Columbus, Ohio and Dublin, California, and on other university campuses, including the University of Florida and Virginia Tech. The vehicle, which is electric, is designed to address the so-called first-mile/last-mile problem in public transit, which occurs when transit stops are too far away for a comfortable walk and when other infrastructure deficiencies, such as the lack of sidewalks or bike lanes, make it difficult to access public transportation.
CASSI operates on public roadways that form a loop through Centennial campus. Industry experts explain that no special infrastructure is required for the EZ10 route. Various technologies are employed to create a virtual line that the vehicle follows and continually repeats. Though EZ10s can reach speeds of about 15 miles per hour, CASSI travels about 7 miles per hour.
Signs are posted along the route notifying would-be riders of CASSI stops and other drivers that an autonomous vehicle is in operation.
Legal requirements. G.S. 20-4.01(h) sets forth five requirements for operating a fully autonomous vehicle on North Carolina streets and highways.  They are:
 Unless an exception or exemption has been granted the vehicle:

Is capable of being operated in compliance with Articles 3, 3A, 7, 11, and 13 of Chapter 20;
Complies with applicable federal law and regulations; and
Has been certified in accordance with federal regulations in 49 C.F.R. Part 567 as being in compliance with federal motor vehicle safety standards and bears the required certification label or labels.

The vehicle has the capability to meet the requirements set forth in G.S. 20-401(g) for stopping in the event of a crash.
The vehicle can achieve a minimal risk condition (a term defined in S. 20-400(4)).
The vehicle is covered by a motor vehicle liability policy meeting the requirements of G.S. 20-279.21.
The vehicle is registered in accordance with Part 3 of Article 3 of Chapter 20, and, if registered in North Carolina, is identified on the registration and registration card as a fully autonomous vehicle.
Because there currently are no federal motor vehicle safety standards for autonomous vehicles, EasyMile was required to obtain a federal exemption from National Highway Traffic Safety Administration (NHTSA) for the North Carolina project. Once that hurdle was cleared, CASSI had to be insured and registered under Chapter 20. NC DMV issued CASSI a license plate.
A pilot project. If you want to check CASSI out, don't wait. The shuttle is a pilot project, jointly sponsored by NC State University and the North Carolina Department of Transportation that will operate for six months in the winter and spring of 2020. (The News and Observer reports here that NC DOT is looking for other places in the State where CASSI can be used for the remaining six months of its one-year lease.)
Public rides are available Monday through Friday from 10 a.m. – 2 p.m, and CASSI can accommodate up to 12 riders at a time. And if this whole autonomous thing makes you jittery, NC State wants you to know that a shuttle ambassador is on board at all times to "maintain customer safety and answer any questions." And the ambassador has the ability to stop CASSI.
A sign of things to come. Earlier this month, NHTSA granted a request from Nuro for a temporary exemption from certain low-speed vehicle standard requirements. Nuro sought the exemption in order to deploy its low-speed, not-just-driverless-but-occupantless electric delivery vehicle, the R2.
In January, the National Science & Technology Council and the U.S. Department of Transportation released a joint report, Ensuring American Leadership in Automated Vehicle Technologies, Automated Vehicles 4.0, which touts reductions in roadway crashes and fatalities as among the potential benefits of automated vehicles. The report identifies three core governmental interests related to automated vehicles: (1) the protection of users and communities; (2) the promotion of efficient markets; and the (3) the facilitation of coordinated governance efforts. Public comments on the report are invited until April 2, 2020.
Also, kind of cute. I saw a meme the other day that put CASSI, as a baby bus, in the baby nut, baby yoda category of cuteness. But looks aren't everything. If you've traveled with CASSI, send in a comment and share your experience.