Today is the day! Whether you are a long-time donor or have never given before, we hope you'll consider supporting the School of Government today for GiveUNC.
As the dean of the School of Government, each day I see the many ways the School serves this state. We want to be there for those public officials who need us. And we're able to do that because of you and your support.
Today, you can help us reach even further. Your gift to the School of Government will be matched dollar for dollar, up to $7,500. Once we reach 150 donors, we'll receive another $7,500 and then once we reach 225 donors—in celebration of the University's 225th anniversary—we'll receive another $10,000.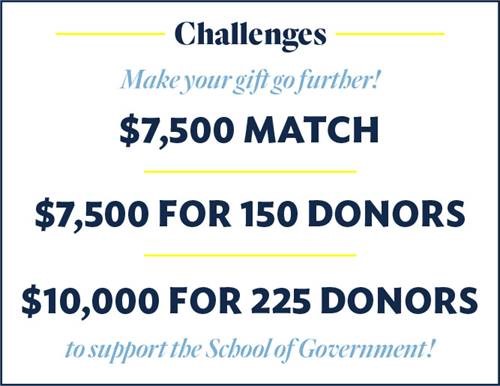 Your gift—no matter the size or what initiative you choose to support—can help us to reach even more public officials and more communities, from the mountains, through the piedmont, to the coast.
Please join me and others in supporting the School of Government today so that we can continue to equip our public leaders with the education and advising they need and rely on to strengthen our state.
Thank you for your contribution and for being a part of GiveUNC.
Mike Smith
Dean, UNC School of Government