The Justice Reinvestment Act (S.L. 2011-192) creates a new program called Advanced Supervised Release (ASR).  Through it, certain inmates will be eligible for release from prison before serving their minimum sentence. According to literature prepared by the Council of State Governments (CSG) Justice Center, a non-profit group that helped develop the legislation, the purpose of ASR is to "[p]rovide incentives for people incarcerated to complete programs that would reduce the likelihood of that person reoffending." Justice Reinvestment in North Carolina: Analysis and Policy Framework to Reduce Spending on Corrections and Reinvest in Strategies to Increase Public Safety, 17. This post summarizes the law and examines some of its technicalities.
(Note: House Bill 335, which has been ratified by the General Assembly but not yet signed into law by the governor, makes some technical corrections to the ASR law. This post assumes those technical corrections will become law, but if that doesn't happen I'll let you know and amend the post accordingly.)
Effective for defendants who enter a plea or are found guilty on or after January 1, 2012, new G.S. 15A-1340.18 allows a sentencing judge, without objection from the prosecutor, to order the Department of Correction to admit an eligible defendant into the ASR program. The law requires DOC to release the defendant on a predetermined ASR date if he or she completes certain risk reduction incentives while in prison (or is unable to complete them through no fault of his or her own). DOC may only admit to ASR those defendants for whom the program is ordered in the sentencing judgment. (That limitation is clearer under the technical amendments set out in House Bill 335 than it was in the original legislation.) Each of those italicized terms is discussed in greater detail below.
Eligible defendant. Only defendants convicted and sentenced based upon the following felony classes and prior record levels are eligible for ASR:
Class D, Prior Record Level I-III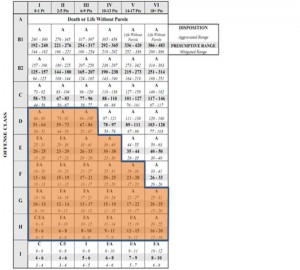 Class E, Prior Record Level I-IV
Class F, Prior Record Level I-V
Class G, Prior Record Level I-VI
Class H, Prior Record Level I-VI
The law also limits ASR eligibility to defendants sentenced to an active sentence. Defendants initially sentenced to probation but later revoked apparently are not eligible for ASR.
(Part of that catchment area may present a problem in the short term. The ASR law says that offenders will be released from prison early and placed on post-release supervision. The law's effective date says ASR is available to eligible defendants convicted on or after January 1, 2012, but for offenses committed before December 1, 2011, only Class B1 through E felons get post-release supervision. Many Class F, G, and H felons convicted after January 1 will have offense dates before December 1, 2011—and therefore won't have any supervision to be released to in advance. It's unclear whether those defendants simply cannot be ordered to ASR, or whether the ASR law itself fills that gap when it says in new G.S. 15A-1340.18(g) that a defendant "released on the ASR date is subject to post-release supervision under this Article"—meaning Article 81B, Structured Sentencing, where the ASR law is codified. Our existing post-release supervision law is set out in Article 84A of Chapter 15A, not Article 81B, so maybe the supervised release envisioned in the ASR law is something altogether different. Either way, the problem goes away relatively quickly; under Justice Reinvestment, all felonies committed after December 1, 2011—regardless of offense class—get post-release supervision.)
ASR date. Under G.S. 15A-1340.18(d), the ASR date is the shortest mitigated sentence (and that presumably means minimum sentence) that the defendant could have received based on his or her conviction offense and prior record level. If the defendant is sentenced in the mitigated range, then the ASR date is 80 percent of the minimum sentence imposed. (Note that for defendants sentenced at or near the top of the mitigated range, the 80 percent rule generates a later ASR date than the rule for presumptive or aggravated sentences. For instance, the ASR date for a Class D, Level III offender sentenced in the aggravated range to 105–138 months is 51 months. The ASR date for the same offender sentenced in the mitigated range to 65–90 months is 52 months.) Given the way the ASR date is defined, it appears that drug trafficking sentences are ineligible for the program–there simply is no mitigated range in the drug trafficking sentencing regime set out in G.S. 90-95.
Risk reduction incentives. New G.S. 15A-1340.18(b) authorizes DOC to create risk reduction incentives for defendants admitted to the ASR program. Exactly what those incentives will be has yet to be determined, but the law states that they will consist of treatment, education, and rehabilitative programs designed to reduce participating offenders' likelihood of reoffending. Whatever the programs turn out to be, DOC must release inmates who complete them (or, as mentioned above, who are unable to complete them through no fault of their own) on the ASR date.
Procedurally, a judge who wants a defendant to receive ASR will still impose a regular minimum and maximum under Structured Sentencing—that's the sentence that will kick in if the defendant gets terminated from the program or revoked from early release. G.S. 15A-1340.18(d). The law also requires that the "defendant shall be notified at sentencing that if the defendant completes the risk reduction incentives as identified by the Department, then he or she will be released on the ASR date." G.S. 15A-1340.18(e). Presumably the sentencing judge will give that notification when pronouncing judgment, although the law states that DOC is ultimately responsible for determining the exact date of the release. Id.
Offenders released early onto post-release supervision through ASR are subject to the new violation rules set out in G.S. 15A-1368.3(c) (discussed here), with the caveat that once an ASR offender has been returned to prison for three, three-month periods of confinement (for non–new crime, non-absconding violations by an offender who isn't a sex offender), a subsequent violation results in a return to prison for the time remaining on the maximum imposed term. There is no prospect of further release to the community "regardless of the amount of time remaining to be served." G.S. 15A-1340.18(g). And depending on the defendant's underlying sentence, the amount of time remaining to be served could far exceed the 9 or 12 months hanging over the head of the ordinary post-release supervisee. The maximum is not re-pegged to the ASR date. Consider the following example.
Suppose a Class E, Level I offender is sentenced in the presumptive range to 20–36 months, active, and ordered into the ASR program. The defendant's ASR date will be 15 months—the shortest mitigated sentence for a Class E, Level I offender. If the defendant completes risk reduction incentives in prison, DOC must release him onto post-release supervision after 15 months. The period of supervised release in the community is 12 months, but the sentence hanging over his head is 21 months (less any earned time he might earn during his 15 months in prison).
The ASR date would be the same (15 months) if the defendant were sentenced in the aggravated range. If the defendant received a mitigated sentence of, say, 15–30 months, the ASR date would be 12 months (80 percent of 15).
The law requires DOC to adopt policies and procedures for documenting an inmate's progress through the ASR program and for terminating inmates from the program due to a lack of progress or pattern of noncompliance with the program or other rules or regulations. (The same statute also directs DOC to adopt policies for "the assessment" to occur at diagnostic processing, but there is no other reference to an assessment in the law.) If an inmate is terminated from the ASR program, the ASR date is nullified and the defendant's release date is determined based on the regular minimum and maximum term imposed by the court at sentencing. Even a prisoner who has already completed the assigned risk reduction incentives can see his or her ASR date nullified on account of noncompliance with DOC rules or regulations.
ASR is not without controversy. Similar early release plans have cropped up in other states, largely as a cost-cutting measure, but not all of them have survived. One of the states (Wisconsin) highlighted in the CSG materials cited in the opening paragraph of this post recently repealed its program after only a few years. In North Carolina the law is the first exception to the cardinal Structured Sentencing rule that everyone serves the minimum. G.S. 15A-1340.13(d). It would be an exaggeration, though, to say that ASR is a return to the Fair Sentencing days when, in 1993 for example, the average felon served less than 20 percent of his or her sentence before being released. See The North Carolina Sentencing and Policy Advisory Commission: A History of Its Creation and Its Development of Structured Sentencing, 5. And ASR preserves a measure of truthfulness to the extent that it is a front-end determination that must be announced to the defendant at sentencing.
It will be interesting to see how (and how often) the law will be used. Only time will tell, but perhaps your comments will give us a clue.