It is somewhat rare for one of my children to know more about recently enacted legislation than I do. But it happened a few weeks ago when the General Assembly adopted legislation that allows my sixteen-year-old to get his driver's license without taking a road test.  This post will cover that legislation and other recent amendments to the state's motor vehicle laws.
Temporary road test waivers.  The North Carolina Division of Motor Vehicles (DMV) halted road tests in March 2020 due to COVID-19. That left many 16- and 17-year-olds unable to obtain a Level 2 limited provisional driver's license. To obtain such a license, a driver must, in addition to meeting other requirements, have held a limited driving privilege for a year, log 60 hours of supervised driving, and pass a road test. G.S. 20-11(d).  S.L. 2020-30 (H 158) permits teenagers who meet all of the requirements other than passing a road test to obtain a Level 2 limited provisional license.  This is a reprieve — not a permanent waiver.  To obtain a Level 3 full provisional license (which allows unsupervised driving after 9 p.m.), a Level 2 limited provisional licensee who was granted a road test waiver must first pass a road test.
S.L. 2020-30 became effective June 19, 2020. DMV instructs limited provisional license applicants who qualify for a road test waiver to make an appointment at a DMV license office.  And, yes, we have an appointment.
New limited driving privilege. S.L. 2020-77 (S 488) enacts new G.S. 20-24.1(f), effective December 1, 2020, authorizing a new limited driving privilege for a person whose license is revoked under G.S. 20-24.1(a)(2) for failure to pay a fine, penalty or court cost. The privilege may be valid for up to one year or until any fine, penalty or court costs is paid. If the person's license also is revoked for another reason, the person is not eligible for the privilege.
The privilege is granted in the same manner and under the terms and conditions that authorize the granting of a limited driving privilege for a first offense of excessive speeding. See G.S. 20-16.1. Thus, to obtain a G.S. 20-24.1(f) privilege, the person must apply to the trial judge, who may impose any restrictions that he or she deems advisable, including conditions of days, hours, types of vehicle, routes, geographical boundaries, and specific purposes for which the limited driving privilege is allowed.
A person may not apply for a limited privilege under this subsection if the person has held a G.S. 20-24.1(f) limited driving privilege within the previous three years.
Regulation of modified utility vehicles. S.L. 2020-40 (H 307) enacts new G.S. 20-4.01(27), defining a modified utility vehicle as a motor vehicle that
is manufactured for off-road use;
has headlamps, stop lamps, turn signal lamps, tail lamps, reflex reflectors, parking brakes, rearview mirrors, windshields, windshield wipers, speedometer, and seat belts;
has four wheels,
has an engine displacement greater than 2400 cubic centimeters;
is at least 142 inches long, at least 58 inches wide, and at least 70 inches tall;
has a maximum speed of at least 40 miles per hour; and
does not require an operator or passenger to straddle a seat.
A modified utility vehicle does not include an all-terrain vehicle, golf cart, utility vehicle as defined in G.S. 20-4.01(48c), or a riding lawn mower.
Having trouble picturing this vehicle?  So was I.  I found this article from Popular Mechanics and the accompanying photographs to be helpful.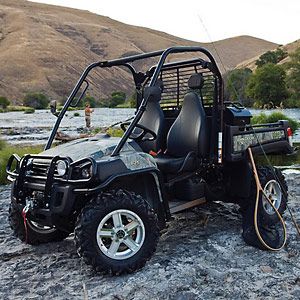 S.L. 2020-40 amends G.S. 20-121.1 to authorize the operation of modified utility vehicles on streets or highways where the speed limit is 55 miles per hour or less and to require that modified utility vehicles be registered and insured in accordance with G.S. 20-50 and G.S. 20-309.
The act is effective October 1, 2020.