Diverse teams of justice system stakeholders in New Hanover, Orange, and Robeson counties participated in the North Carolina Court Appearance Project, seeking to improve local court appearance rates and develop better responses to nonappearances. The teams examined local court and jail data, reflected on court practices and procedures, and crafted policy solutions suited to the needs of their communities and courtrooms. We recently released a report describing the project teams' initial efforts. This post summarizes key takeaways from that report.
Measuring the problem
Applying an evidence-based approach, project teams first examined data to understand the scale of missed appearances. They found that, in North Carolina, about 1 in 6 criminal cases had at least one missed court appearance, amounting to almost 250,000 absences a year. These absences are inefficient for court personnel and cause inconvenience for people involved as witnesses, victims, and anyone else expecting a proceeding. Additionally, common responses to nonappearance can land people in jail or prevent them from driving, causing significant consequences for them, their families, and the community.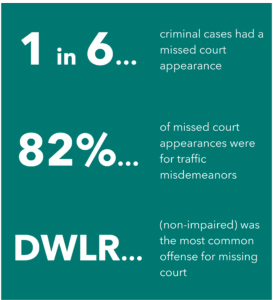 Traffic misdemeanors constituted the lion's share of nonappearances (82%). Driving While License Revoked (Non-impaired) was the most common offense for missing court, followed by Expired Registration and Speeding. Together, these three offenses accounted for about half of all nonappearances. Put another way, about half of all nonappearances occur in low-level or administrative traffic offenses.
If you're curious about nonappearance data for your county, you can explore the court nonappearance tab on the Lab's Measuring Justice Dashboard. There, you can see court nonappearance data from 2019 to present, including by age, race, and offense.
Adopting policy solutions
After examining the data, project teams developed a bevy of policy solutions to increase court appearance and improve responses to missed appearances. The following table shows the policy solutions at a glance: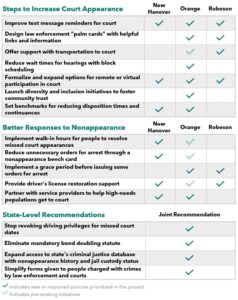 While the policy solutions at a glance can give you an idea of the breadth of work the project teams undertook, I'll dive a little deeper into two of the initiatives.
Improved Court Reminders
All three project teams recognized how improving court reminders could improve court appearance. And while the Administrative Office of the Courts launched a text and email reminder service in 2018, enrollment has been low. To improve enrollment in that system, project sites developed easy-to-read palm cards for justice system practitioners to distribute. Some project sites included additional information specific to the jurisdiction, such as courthouse location and available transportation services.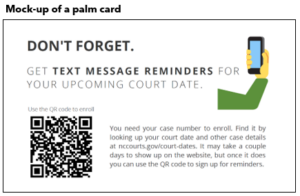 In addition to the AOC reminder system, project teams are utilizing Uptrust, a more versatile text reminder and communication service. This system, which allows for more specific messages than the AOC system, is being implemented in the public defender's office to support attorney-client communications.
New Steps before Ordering an Arrest
When project teams examined jail data, they saw that failure to appear in court for a misdemeanor offense was the most common reason people go to jail in their respective jurisdictions. Stakeholders agreed that not every missed appearance requires an order for arrest (OFA) and are implementing a variety of solutions to address the issue.
New Hanover County and Orange County are implementing a nonappearance bench card to determine when an OFA is appropriate. If the person has good cause for missing court, is charged with a misdemeanor and has not previously failed to appear, or is charged with a Class 3 misdemeanor, the bench card recommends the person's court date be reset without issuance of an OFA. Judicial officials retain discretion to override the bench card's recommendations.
Orange County and Robeson County are implementing a grace period before an arrest is ordered. If the court determines that an OFA is necessary after a nonappearance, the judge will indicate to the clerk whether to issue the OFA immediately or hold processing of the OFA for two business days, to allow the person an opportunity to appear and rectify the missed appearance. As with the bench cards, judicial officials retain discretion to issue the OFA immediately if warranted.
What's next?
In the next phase of the project, teams will continue to implement policy solutions that will provide models for change. We will compile and share that material so that others may learn how to implement similar changes in their jurisdictions. The project was supported by The Pew Charitable Trusts and the UNC School of Government Criminal Justice Innovation Lab.