Editor's Note:  This is the first post by Ethan Rex, who has served as the Project Manager for the Criminal Justice Innovation Lab since June 2020. We welcome Ethan to the blog!
The UNC School of Government Criminal Justice Innovation Lab recently released a report of early findings for the Citation Project. Executed by the Lab and the North Carolina Association of Chiefs of Police (NCACP), the Citation Project seeks to improve policing practices through implementation and rigorous evaluation of a model citation in lieu of arrest policy. Initial findings from the first report are promising: citations are being heavily used in pilot sites, there were no racial disparities in warrantless arrests, implementation is strong, magistrates' bail decisions suggest the policy is working as intended, and use of citations results in substantial time savings for police departments.
What is a "citation in lieu of arrest" policy?
A citation in lieu of arrest policy, as the name implies, recommends use of a citation instead of a warrantless arrest in certain instances. For this project, we worked with law enforcement leaders to develop a model citation in lieu of arrest policy. The model policy, while expressly preserving officer discretion, recommends use of a citation in misdemeanor incidents except when:
The law requires an arrest;
Release on citation will not reasonably assure the defendant's appearance in court; will pose a danger of injury to any person; or is likely to result in destruction of evidence, subornation of perjury, or intimidation of potential witnesses; or
Exigent circumstances require an arrest.
The need for the first exception is obvious. The second is designed to align policing policy with state bail statutes. Put another way, it recommends a citation except where state law would allow the imposition of a secured bond. The third exception is designed to address situations where issuance of a citation would allow the criminal behavior to continue.
What's behind the project & who's involved?
Several groups, including the Task Force on 21st Century Policing, the International Association of Chiefs of Police, and the North Carolina Task Force for Racial Equity in Criminal Justice have recommended the use of citation in lieu of arrest, citing benefits to public safety, efficient use of resources, and equity. Despite these recommendations and potential benefits, little research has been done evaluating the impact of citation in lieu of arrest policies. The Citation Project is designed to remedy that research gap.
As noted, this is a joint project between the Lab and the NCACP. The project's seven-member project team includes five North Carolina Police Chiefs:
Chief Eddie Buffaloe, Elizabeth City Police Department and President, NCACP
Chief Paul Burdette, Beaufort Police Department and Regional Director, NCACP
Chief Dan House, NC State University Police Department and Past President, NCACP
Chief Blair Myhand, Hendersonville Police Department and Sgt-at-Arms, NCACP; and
Chief Damon Williams, NC Central University Police Department and 2nd Vice President, NCACP.
The remaining two team members include Lab Director Jessica Smith and Sarah Desmarais of Policy Research Associates who is leading the empirical evaluation. Departments applied to serve as pilot sites, and on December 1, 2020, four police department pilot sites went live with the project's model policy.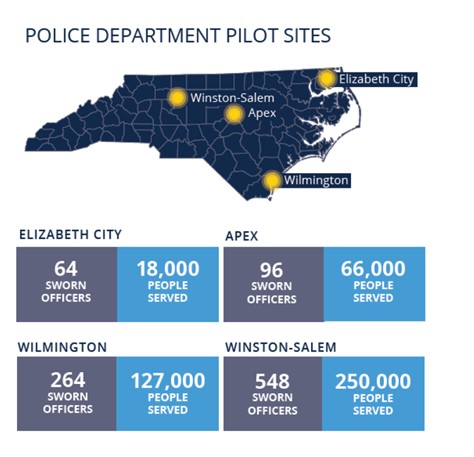 What did the first report find?
This first report covers the first four months of implementation: December 2020 through March 2021. The report includes a lot of findings. In this post, I'll summarize several key takeaways.
Officers are using citations for most encounters
Our report focused on encounters that resulted in issuance of a citation or a warrantless arrest. Of those encounters, 91% resulted in charging by citation; only 9% resulted in warrantless arrests. In future reports, we will compare these percentages to pre-implementation data from the pilot sites as well as data from comparison sites.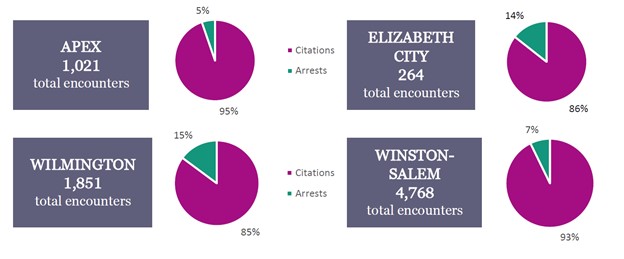 There was no significant difference in warrantless arrests across racial groups
When we examined outcomes by race, found that just under 10% of encounters resulted in an arrest for both Black and White people. While White people were arrested slightly more often than Black people, additional analyses determined that this difference was likely due to chance. In other words, early findings suggest that there were no racial disparities in warrantless arrests.
Implementation of the policy is good
Examining the quality of a policy's implementation can help us understand the extent to which a policy is operating as intended, thereby providing context for findings. For instance, if desired or anticipated effects of a policy are not found, an implementation evaluation can signal whether it is due to policy or implementation shortcomings. Preliminary analysis revealed good implementation of the model policy. Specifically, officers correctly categorized 80% of reasons for arrest and 90% of forms properly reported on encounters within the scope of the policy.
Only 35% of those arrested were released on conditions other than secured bond
We examined magistrate bail decisions for encounters that resulted in warrantless arrests to assess alignment between officers' decisions to arrest and conditions of pretrial release imposed by magistrates at the initial appearance. One objective of the model policy is to better align officers' cite versus arrest decisions with state bail law. Put another way, one goal of the policy was to minimize the number of instances where an officer makes a warrantless arrest, but the person is immediately released pretrial on conditions other than secured bond. We use the term "conditions other than secured bond" as a shorthand to refer to a written promise, custody release, or an unsecured bond. We found that only 35% of all arrests resulted in conditions other than secured bond, showing good alignment with bail law.
Use of citations yields significant time savings
Across all sites, citations resulted in substantially less time out of service than arrests. On average, officers were out of service 171 minutes when making a warrantless arrest and 28 minutes when issuing a citation—a difference of nearly three hours. The greatest difference between time spent on citations versus arrests—nearly four hours—was in Apex.
What's next?
The Citation Project continues through 2023. Future reporting will include additional key metrics, such as non-appearance and new pretrial criminal activity rates. The project is supported by a grant from the Charles Koch Foundation.
If you have questions about the Citation Project, feel free to reach out to me at rex@sog.unc.edu.