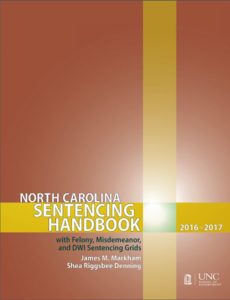 The 2016-2017 edition of the North Carolina Sentencing Handbook with Felony, Misdemeanor, and DWI Sentencing Grids, authored by me and Shea, is available from the School of Government. Like previous editions, it contains instructions on felony sentencing, misdemeanor sentencing, and DWI sentencing; the sentencing grids themselves; and various appendices that may be helpful in your work.
The revised version incorporates new legislation and cases through November 2016.
The sentencing grids remain unchanged since 2013, but we did make a small change to their presentation in the book. The grids are now flagged to identify the cells in which a defendant might be eligible for Extraordinary Mitigation (described here) or Advanced Supervised Release (here). It is helpful for me in my teaching to have a visual depiction of when those laws can apply. I thought it might be helpful to you, too.

Another addition to the book is the inclusion of a new appendix listing special sentencing rules for a dozen or so commonly charged crimes (shoplifting, for example).
Aside from that, most of the changes are technical. For instance, I added the two new regular conditions of probation discussed here and the new restitution rule for insurers described here. I also added new sections on work release and sex crimes to the Additional Issues portion of the book.
The Administrative Office of the Courts purchased copies of this book and will distribute them to the following judicial officials:
All resident judges (district and superior court)
All district attorneys and assistants
All public defenders and assistants
Books will be delivered with regular supply orders. Distribution should be complete by the end of the month. Please direct questions about AOC distribution among judicial personnel to Joe Slate at 919-890-1532.
Others may purchase a copy of the book from the School of Government here, or by calling 919-966-4120.