Back in July I wrote a post (here) inviting North Carolina police departments to apply to participate as pilot sites for The Citation Project. Executed by the UNC School of Government's Criminal Justice Innovation Lab and the North Carolina Association of Chiefs of Police, The Citation Project seeks to improve policing practices through implementation and rigorous evaluation of a model citation in lieu of arrest policy. Four pilots sites have been selected. They include: Winston-Salem, Wilmington, Apex and Elizabeth City.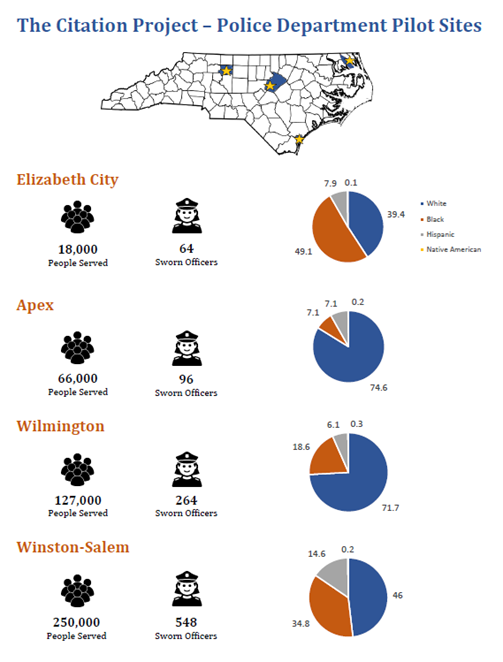 In choosing pilot sites the project team considered availability of applicants' data and commitment to the project, population served, including racial demographics, geographic location and other information.
What's next? We are actively working with pilot sites to implement the model policy effective December 1st, including supporting the training of the 972 sworn officers who work in pilot sites. Not long after the project goes live, we will begin receiving and analyzing data, so that we can report on the impact of the policy. Our evaluation will examine criminal justice metrics such as changes in use of citations, equitable administration of the policy, changes in non-appearance and new criminal activity rates, officer time savings, and jail usage.
Project team members include Chief Dan House, NC State University Police Department and Immediate Past President of the NCACP; Chief Blair Myhand, Clayton Police Department; Chief Paul Burdette, Beaufort Police Department; Chief Damon Williams, NC Central University Police Department; Chief Eddie Buffaloe, Elizabeth City Police Department, myself and Sarah Desmarais, Professor in the Applied Social and Community Psychology Program and Director of the Center for Family and Community Engagement at North Carolina State University.
For more information about the project, contact CJIL Project Manager Ethan Rex at rex@sog.unc.edu.