In a post here, I noted that under state law, counties, cities, towns, and metropolitan sewerage districts have authority to create crimes through local ordinances. This is a somewhat controversial issue. As I've noted, one of the arguments made in the national conversation about overcriminalization is that too many minor activities are made criminal and that it's not efficient, effective, or fair to address this activity through the criminal justice system. It's further asserted that many low-level crimes—such as panhandling and sleeping in public places—criminalize poverty and homelessness when those issues should be treated as social needs. In fact, at a panel discussion on overcriminalization at my recent NC Criminal Justice Summit, national and state experts from across the ideological spectrum weighed in on this issue, agreeing that creating a crime is a legislative function and should be done by state lawmakers, not local governments. Those panelists included Vikrant Reddy, Senior Fellow, Charles Koch Institute; Nathan Pysno, Director of Economic Crime and Procedural Justice, National Association of Criminal Defense Lawyers; Tarrah Callahan, Executive Director, Conservatives for Criminal Justice Reform; and Mary Pollard, Executive Director, North Carolina Prisoner Legal Services and President, North Carolina Advocates for Justice. The 240 state leaders and stakeholders who attended the Summit echoed that sentiment. During live, anonymous polling during the session, attendees weighed in on three consensus reform proposals formulated by the panelists to address overcriminalization in North Carolina. One of those proposals was: Repeal code provision allowing local governments and administrative boards and bodies to create crimes. 75.72% of attendees supported that proposal, with 26.59% supporting it with caveats; 19.65% opposed it; and 4.62% were undecided.
In my last post, I presented a table showing that in 2018 NC charged a minimum of 10,946 ordinance crimes. As I discussed in that post, that's a conservative number because it represents only charges expressly listed as ordinance violations; more likely are charged in various "free text" NC AOC charge codes. I also showed the conduct at issue in those 10,946 cases; it included things like begging and having an open container of alcohol. After the post ran, a bunch of people asked me to do a county-by-county breakdown. With help from our great Research Associate Christopher Tyner, I have that for you.
Just four counties account for 59% of the total ordinance charges: Mecklenburg, Forsyth, Wake, and Buncombe. Based on population estimates for these counties, it's not terribly surprising to see these four in this list. It's worth noting that Buncombe County ranks 4th in charges but only 7th in population.
Seventeen counties are in the "100 Club," having charged at least 100 ordinance crimes in 2018. Those 17 counties account for 82% of the charges. The list of 17 counties is provided in Table 1 below.
Table 1: Seventeen NC Counties That Charged At Least 100 Ordinance Crimes in 2018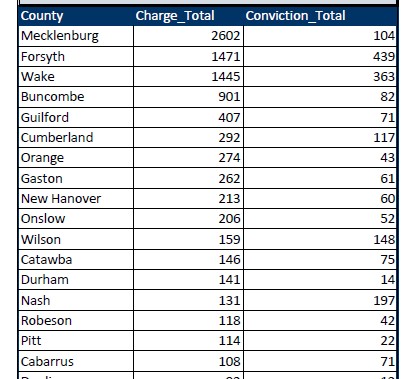 There are some surprises on this list. I wouldn't have expected to see Orange County in spot number 7, given that it ranks 20th by population. Ditto for Wilson (11th in Ordinance Crimes; 34th in population) and Nash (14th in Ordinance Crimes; 30th in population). On the other end, while Durham County ranks 6th in population, it is only 13th for Ordinance Crimes. If you want to see the full list of all 100 NC Counties, it's posted here.
Want to know what Ordinance Crimes are being charged in your county? A table posted here shows every county's 2018 Ordinance Crimes by charge. For some highlights, here are the top three most commonly charged Ordinance Crimes in the four counties with the highest number of charges:
Table 2: Top Three Ordinance Crimes in the Four Counties that Charge 59% of Ordinance Crimes
Mecklenburg
"Fail Provide Proof Fare Pay"                            1065 charges
Begging ("Solicit Alms/Beg for Money")               303 charges
"Open Container of Alcohol Viol."                        270 charges
Forsyth
Begging                                                             393 charges
"Local Ordinance—Free Text"                               244 charges
"City/Town Violation"                                           140 charges
Wake County
"Open Container Alcohol Viol."                              473 charges
Begging                                                              315 charges
"Local Ordinance-Free Text"                                 293 charges
Buncombe
"Open Container Alcohol Viol."                              335 charges
Begging                                                              311 charges
"Local Ordinance-Free Text"                                 105 charges
Some have asked whether an ordinance violation always is a crime. As a general rule, a person who violates a town, city or county ordinance commits a Class 3 misdemeanor. G.S. 14-4(a). However, if the ordinance regulates vehicle operation or parking, violation is a non-criminal infraction. G.S. 14-4(b). Additionally—and importantly for this discussion—a city or county doesn't have to make an ordinance violation a crime. Specifically, the statutes provide that if the governing body says that an ordinance violation isn't a misdemeanor, violation isn't a crime. G.S. 153A-123(b); 160A-175(b). For jurisdictions wishing to limit these charges, the statutory authority to specify that an ordinance violation is not a crime presents one option for doing so.