Charlotte's got banking, Asheville's got mountains, and Eastern North Carolina has the beach, but right now, the Triangle has criminal justice stories in spades. In Orange County, the taking of testimony has begun in the Laurence Lovette/Eve Carson trial. The News and Observer story here includes an interesting discussion of the feasibility of emergency PINs that could be used by a person being forced to make a withdrawal from an ATM. Meanwhile, in Durham, convicted murderer Michael Peterson is pressing for a new trial based on alleged misconduct by former SBI agent Duane Dever. District Attorney Tracey Cline was unsuccessful in her attempt to have Superior Court Judge Orlando Hudson removed from the case. At the same time, Cline is facing allegations of misconduct in connection with motions for certain inmates' prison records, as described here. In other news:
1. The General Assembly is apparently considering taking action against illegal immigration, as reported here. At the same time, Alabama, one of the states with the toughest new laws targeting illegal immigrants, is considering revising its measures in light of court challenges and complaints from the business community.
2.Sentencing Law and Policy just highlighted a law professor's forthcoming article singing the praises of the Innocence Inquiry Commission, and proposing it as a national model.
3. North Carolina's Justice Reinvestment Act went into effect last week. We'll see how it plays out here, but I was interested to note this story in the Austin Statesman reporting that prison capacity and costs continue to rise in Texas, notwithstanding the recent implementation of justice reinvestment reforms in that state. The newspaper contends that "[t]he situation illustrates how difficult it is to significantly reduce prison costs in a fast-growing state like Texas without confronting a tough political question: Can society afford to keep so many criminals behind bars?" Wasn't that exactly the tough question that justice reinvestment was supposed to be confronting?
4.Doug Berman discusses former Illinois Governor Rod Blagojevich's 14-year sentence here, and discusses former ballplayer Barry Bonds' request for a sentence of home confinement here. Berman says he "suspect[s] Barry Bonds' residence is pretty darn nice," and wonders how much punishment home confinement would be. Some quick and possibly unreliable internet research turned up the picture below, and I would simply like to request that I, too, be ordered to serve a sentence of home confinement at the Bonds residence.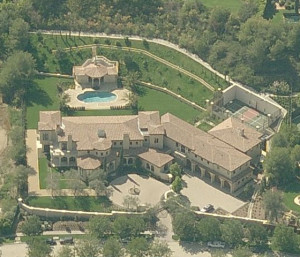 5. Even farther afield, Confrontation Clause junkies will be interested in this post on the Volokh Conspiracy, discussing whether, in a Canadian sexual assault case, the victim may testify while wearing an Islamic facial veil.
6. Finally, on the lighter side, the holidays are coming up and that means gift-giving opportunities. For the little munchkin on your list, you may wish to consider this FBI Agent play set, complete with tactical vest, working handcuffs and a collapsible baton. Cute! If there's a lawyer on your list, consider purchasing him or her some billboard space. Some classic designs are here and here. The absolute best, simplest, and most direct message, shown in the latter link: "Call me. I'm a lawyer. I'm on a billboard." Enough said.