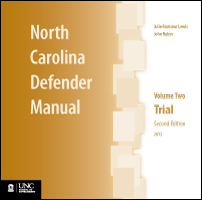 A new edition of Volume Two of the North Carolina Defender Manual has just been released. Volume Two addresses trial issues, from jury selection through verdict and beyond. It also covers guilty pleas, motions to dismiss, and other important topics. (Volume One covers pretrial proceedings — a new edition of that volume is apparently in the works as well.) The authors are Julie Lewis, a public defender in Mecklenburg County, and my colleague John Rubin.
I haven't had a chance to dig into this edition yet, but it appears to be far more extensive than the previous edition. The preface describes this edition as "essentially a brand new resource." If it matches the quality of Volume One, it will be tremendously valuable — not just to defense lawyers, but also to anyone with an interest in North Carolina criminal law.
You can view and download the new volume for free from the School of Government website, here. It's also available on the IDS website, here. Note, however, that you cannot print from either location. If you want a hard copy of the volume, you may purchase it here for $85. Of course, IDS and the AOC are working together to supply each public defender with a hard copy.
Congratulations to Julie and John for completing this project.