Have you ever eaten cake decorated with the name of a prison facility? I hadn't until a few weeks ago, when I attended the ribbon cutting ceremony for the Division of Adult Correction's new CRV Center in Robeson County.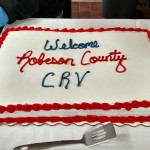 I'm glad I made the trip down to Lumberton—not just because of the cake (which turned out to be pretty good), but also because of what I learned about DAC's vision for its new form of confinement for probation violators. Today's post is intended to pass some of that information along to the judges and prosecutors who will send probationers to the CRV centers, and to the defense lawyers who will advise their clients about what to expect there.
The Robeson facility is one of two CRV centers that DAC opened last month. The other is in Burke County in Morganton, near the former Western Youth Institution. DAC reopened both sites under a legislative authorization to "convert closed facilities for use as treatment and behavior modification facilities." S.L. 2014-100, section 16C.10. Effective immediately upon their opening, men ordered to serve a period of confinement in response to violation for a technical violation of felony probation (a violation other than a new crime or absconding) will serve their 90-day term of incarceration in one of the two centers.
The goal of the new centers is to provide a special type of treatment-focused behavior modification for probation violators. Previously, felony CRVs were being served in regular prison facilities, alongside inmates serving active sentences. The CRV centers are, as the name implies, exclusively for CRV inmates. The centers use dormitory-style housing similar to minimum security prison. Probation officers and prison case managers—not traditional correctional officers—work on site to supervise the inmates and facilitate their programming.
There are two primary components to that programming. The first is a form of cognitive behavioral intervention (CBI) known as Moral Reconation Therapy (MRT). The second is a substance abuse curriculum called Living in Balance. In these programs, offenders participate in group sessions and complete workbook activities designed to promote moral reasoning and addiction recovery, respectively. Corrections officials emphasized to me that the substance abuse curriculum offered at the CRV centers is not intensive inpatient treatment. If a judge wants that for a probationer, he or she should order residential treatment at a place like DART-Cherry, not a CRV.
The emergence of the CRV centers coincides with the onset of a new jail credit rule for CRVs (discussed in this prior post) that kicked in for probation violations occurring on or after October 1, 2014. Under that rule, a probationer may not receive credit against a CRV for any time already served in the case, including time spent in detention awaiting the probation hearing at which the CRV is ordered. With that rule in place, any CRV ordered will be for a full 90 days—a change intended to allow DAC enough time to cycle the offender through a complete course of treatment. Along similar lines, DAC would prefer (to the extent logistically and legally permissible, of course) that defendants resolve other pending matters either before beginning a CRV or after completing it, to avoid any interruption in programming on account of a writ.
In addition to the statutory change related to jail credit, DAC has adjusted some of its administrative policies on CRV. For example, no longer are CRV inmates denied all visitation during their confinement—a rule that had prompted some to joke that CRV stood for "Can't Receive Visitors." Now, visitation is permitted after two weeks of good behavior.
From the courtroom perspective, the emergence of the CRV centers will be largely transparent. The place of confinement for the felony CRV indicated on the probation modification order (AOC-CR-609) should still be N.C. DAC. As before, it is the prison system (not the court) that will identify the particular facility within the system where the defendant will serve the time. G.S. 148-4. (Misdemeanor CRVs, by the way, are still served where the defendant would have served an active sentence, which will be the local jail or the Statewide Misdemeanor Confinement Program, as indicated in the chart available here.)
The creation of new CRV centers strikes me as further evidence of "the dunk" (as the New York Times referred to it) coming of age. DAC's physical facilities and programmatic offerings are now catching up to the sweeping legal changes made by the Justice Reinvestment Act in 2011. Initial indications are that things are going well at the new centers, but they are still a work in progress. The male facilities are far from full capacity (at last check, 66 of 192 beds are occupied at Robeson, 39 of 248 at Burke), and there is not yet any dedicated CRV center for women. Legal questions will no doubt emerge. For instance, are defendants who leave the facility absconders, escapees, or both? For now, though, corrections officials are justifiably enthusiastic about their new project, and observers in North Carolina and across the country will be watching to see if it achieves its goals for revocation and recidivism reduction.