We recently invited North Carolina jurisdictions to apply to participate in the NC Court Appearance Project. The project is supported by the UNC School of Government Criminal Justice Innovation Lab and The Pew Charitable Trusts. We're excited to announce our three project sites: New Hanover, Orange, and Robeson Counties. We will be supporting stakeholders in these jurisdictions as they examine the scope and impact of missed court dates and explore ways to improve court appearance rates and responses to missed court dates. Each site has a project team composed of local judges, the DA, the Public Defender or a defense representative, the sheriff, the clerk of court and other officials. Because we're interested to help stakeholders explore solutions that can work across diverse jurisdictions, we're happy to have participation from an urban county, a suburban county, and a rural county. Thanks to everyone that applied—we wish we could have included all of you!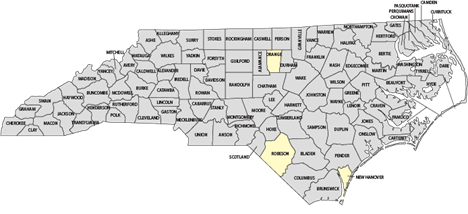 What's next?
The project begins this month and runs through spring of 2022. Sites will meet monthly to discuss the scope and impact of court nonappearance, examine relevant research and promising case studies, and explore potential policy options to improve local systems. These efforts will culminate in a public report on the data and research findings from participating jurisdictions and the consensus policy solutions they identified. We hope the report will be a valuable resource to stakeholders across North Carolina and beyond.
For questions on the project, you can contact Jessica Smith at the Lab (smithj@sog.unc.edu) or Michelle Russell at Pew (mrussell@pewtrusts.org).