Shea and I are pleased to announce the availability of the 2018 edition of the North Carolina Sentencing Handbook with Felony, Misdemeanor, and DWI Sentencing Grids.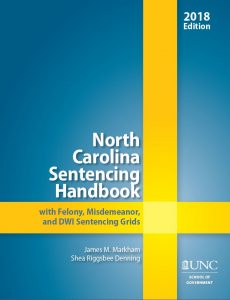 The new version of the book (best read while sitting in an IKEA POÄNG chair or Volvo listening to ABBA, obviously) is current through the 2018 legislative session. There are no new sentencing grids (the most recent change to the grids themselves was in 2013), but the new version makes several changes worth noting. Among other things, the book includes:
A more complete collection of sentence enhancements, including the new gang sentencing enhancements added to the law in 2017.
Revisions to the drug trafficking sentencing table, including the addition of opioids and a new category for substituted cathinones.
New information on life sentences after Miller v. Alabama, 567 U.S. 460 (2012).
An improved discussion of monetary obligations (fines, costs, fees, and restitution).
A revised discussion of satellite-based monitoring, emphasizing the importance of considering the constitutionality of the search in light of Grady v. North Carolina, 135 S. Ct. 1368 (2015).
A more comprehensive listing of the various conditional discharges now available for certain offenses, including communicating a threat of mass violence on educational property or at a place of religious worship.
The book is available through the School of Government's website, here. Court system employees in need of a copy can request it through the AOC's online supply store.
We hope the publication is useful in your work. Please let us know if you have suggestions for making it better.