In a series of posts I've been discussing bail reform, including highlighting pilot programs underway in North Carolina. In 2018, I worked with stakeholders in North Carolina's Judicial District 30B (Haywood and Jackson counties) to help them identify and implement a basket of pretrial reforms. One of those reforms involves a new citation in lieu of arrest program. This reform includes implementation of a law enforcement-approved tool for patrol officers to encourage the increased use of citations in lieu of arrest for certain misdemeanors, in the officer's discretion. The tool is a Cite or Arrest Pocket Card. Although the overall 30B project was a collaborative, multi-stakeholder endeavor, only the law enforcement community participated in the creation of the Pocket Card. The content of the card is reproduced below; in reality it's a bright blue laminated card, the same size as the Miranda Warnings card.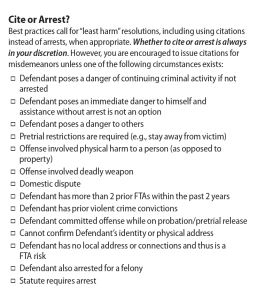 What Are the Reasons behind the Reform?
Promoting the increased use of citation in lieu of arrest is recommended by law enforcement and other groups. See, e.g., Final Report of the President's Task Force on 21st Century Policing 43 (2015); ABA Standards for Criminal Justice: Pretrial Release, Standard 10-1.3 (3d ed. 2007). Use of citations is widely embraced as a law enforcement tool, International Association of Chiefs of Police, Citation in Lieu of Arrest: Examining Law Enforcement's Use of Citation Across the United States (2016), and promoting the greater use of citations has been adopted as a criminal justice strategy elsewhere. See, e.g., Charleston County Criminal Justice Coordinating Council (South Carolina), Annual Report 2017 (discussing increased use of "cite and release" practices in that jurisdiction). Greater use of citations offers potential benefits, including increased efficiency for law enforcement. One report found that citations require 24.2 minutes to process versus arrests, which require 85.8 minutes; citations thus offer a time savings of just over an hour per incident. International Association of Chiefs of Police, supra, at 3. Promoting the increased use of citations in lieu of arrests also can help reduce unnecessary pretrial detentions of low-risk defendants and associated costs, unfairness, and negative public safety outcomes. An arrest triggers an initial appearance and imposition of conditions of pretrial release. Because AOC-generated data show that secured bonds are the most common condition imposed in the District, the decision to make an arrest versus issue a citation often results in imposition of a secured bond and associated wealth-based detentions. Reduction in wealth-based detentions can produce local cost savings. National Conference of State Legislatures, Citation in Lieu of Arrest (Nov. 1, 2017) ("States may use citations to reduce jail populations and provide local cost savings. Citations divert lower risk offenders from detention, reserving limited space and resources for more dangerous offenders. By providing an alternative to pretrial detention and release processes for certain defendants, citation in lieu of arrest can be considered a component of state pretrial policies."), http://www.ncsl.org/research/civil-and-criminal-justice/citation-in-lieu-of-arrest.aspx. For all of these reasons, stakeholders endorsed this reform.
Logistically, How Was It Implemented?
After District stakeholders identified this reform as a priority, I worked with local law enforcement leaders to create the Pocket Card. I had the card printed and local law enforcement agencies were asked to distribute it to officers and provide training on its use at Roll Call. To facilitate training, we prepared a two-page training guide.
What about Officer Discretion?
Nothing about the pilot interferes with officer discretion. The card itself prominently states that whether to cite or arrest is always in the officer's discretion. This is reiterated in the training guide.
How Will the Pilot Be Evaluated?
The Judicial District 30B reform project includes an evaluation component. In partnership with Professor Jamie Vaske of Western Carolina University, evaluation of this and other reforms is underway. Professor Vaske will be looking at compliance and the impact of this change against a set of core justice system metrics. The evaluation period runs through the end of the calendar year, and Professor Vaske will produce a report to stakeholders after that date. I'll post an update when we have information from that evaluation.