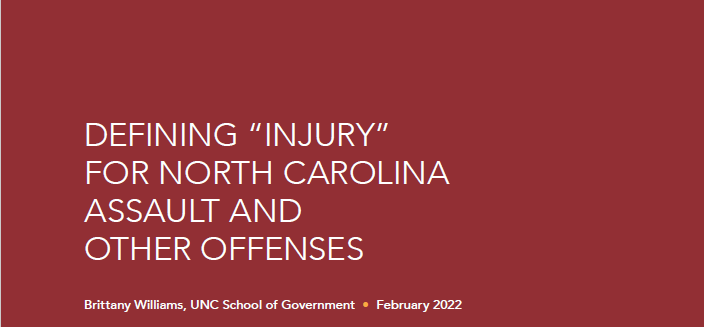 I am excited to announce the release of a new guide on Defining "Injury" for North Carolina Assault and Other Offenses.
A .pdf of the publication is available here. I also have a printed version that I hope to get into the hands of many of our readers at upcoming conferences and trainings.
The main objective of this resource is to help distinguish between "physical injury," "serious physical injury," and "serious bodily injury" as they have been defined by our statutes and our courts. The guide includes applicable offenses for each of the levels of injury, as well as examples from cases that have been decided by our appellate courts.
Thank you to my colleagues Robby Poore and Emily Hinkle for their work designing and producing the resource. I hope it will be useful for any questions you have about injury and assault. As always, feel free to email me with any questions at bwilliams@sog.unc.edu.