In a post here [editor's note: the post shows up with my picture for technical reasons, but it was written by Sejal Zota], a former colleague discussed Padilla v. Kentucky, 130 S. Ct. 1473 (Mar. 31, 2010), a U.S. Supreme Court decision dealing with ineffective assistance of counsel in connection with advice regarding the immigration consequences of a plea. In Padilla, after pleading guilty to a charge of transporting a large amount of marijuana, the defendant, a lawful permanent resident of the United States for more than forty years, faced deportation. He challenged his plea, arguing that his counsel rendered ineffective assistance by failing to inform him that the plea would result in mandatory deportation and by incorrectly informing him that he did not have to worry about his immigration status because he had been in the country for a long time. The Court concluded that when, as in the present case, "the deportation consequence [of a plea] is truly clear," counsel must correctly inform the defendant of this consequence. However, the Court continued, where deportation consequences of a plea are "unclear or uncertain[] [t]he duty of the private practitioner . . . is more limited." It continued: "When the law is not succinct and straightforward . . . , a criminal defense attorney need do no more than advise a noncitizen client that pending criminal charges may carry a risk of adverse immigration consequences." The Court declined to rule whether the defendant was prejudiced by his lawyer's deficient conduct.
Padilla has generated a lot of post-conviction litigation nationally. And in North Carolina it's no different—numerous motions for appropriate relief have been filed alleging that counsel was ineffective under Padilla by failing to properly advise defendants regarding the immigration consequences of their pleas. For defendants whose convictions became final prior to Padilla, retroactivity is a preliminary issue presented by those motions. As I discuss in more detail in a bulletin available here, under federal law a new rule of criminal procedure does not apply retroactively unless it is a watershed rule of criminal procedure. Put in visual form, retroactivity analysis for Padilla follows this path:
A number of courts in other jurisdictions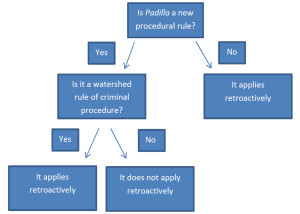 have addressed the issue of whether Padilla is retroactive and a split of authority is emerging at the appellate level. Compare United States v. Hong, __ F.3d __, 2011 WL 3805763 (10th Cir. Aug. 30, 2011) (Padilla is a new rule but not a watershed rule and thus is not retroactive), and Chaidez v. United States, __ F.3d __, 2011 WL 3705173 (7th Cir. Aug. 23, 2011) (as a new rule, Padilla is not retroactive; because the parties agreed that the rule was not a watershed rule of criminal procedure, the court did not address that issue), with United States v. Orocio, 645 F.3d 630 (2d. Cir. 2011) (Padilla is not a new rule and thus applies retroactively), and Commonwealth v. Clarke, 949 N.E.2d 892 (Mass. 2011) (same). The North Carolina appellate courts have not yet dealt with the issue. But given the post-conviction motions before the trial bench, it is only a matter of time before we see a decision. When we do, I'll post an update.